AgencyInsight®


Terrace's AgencyInsight is a complete solution for the insurance agent and broker. AgencyInsight is an integrated, end-to-end solution that improves the overall quality and efficiency of both front and back office operations. The system has powerful capabilities for marketing, policy management, premium accounting, claims tracking and client servicing.

AgencyInsight Works The Way You Do.
The system's adaptive operation allows users to use as much or as little of the system as they need. Use the system's powerful marketing features to track prospects, submissions, market quote requests and proposals. Use the systems rich policy management features to track policy information, bill and invoice. Streamline your collections and payments processing with our simplified premium accounting features. And, expedite client servicing using the systems simple wizard guides.

The system is smart. Simply create policy information, bill and invoice when there is no marketing. If you do market, the system will carry forward any information entered during marketing into the policy management area to expedite billing and invoicing. And the system is does not rely on arcane codes — all key statuses, accounts, etc. are all presented in meaningful English which accelerates training and makes the system easier to use.

Underlying Architecture
The heart of AgencyInsight is our open processing pipeline. The pipeline architecture facilitates a logical flow of information from step to step accelerating processing times and decreasing data entry errors.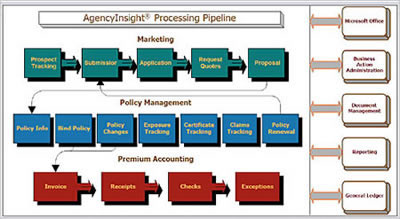 AgencyInsight Integrated Sub-systems
Microsoft Office—the system can exchange information with Word, Excel, and Outlook. Any Microsoft Word template can be populated with any information in the system at any time.
Business Action Manager—Terrace's Business Action Manager is a powerful feature which orchestrates and automates business processes. Business actions can automate any process where users need to create documents, create tasks, and file notes. The system can create standard ACORD and non-standard documents in Microsoft Word and Adobe PDF formats. Business actions can be added and modified quickly via AgencyInsight's menu driven system administration.
Document Management—AgencyInsight comes with a great document storage facility. The system will automatically store any document generated by the system directly in the database. Users can also add any external document in any format to the systems document database. And documents from the database can be e-mailed without ever leaving the system.
Open Reporting—Terrace designed AgencyInsight reporting using Crystal Reports—the most popular 3rd party reporting package available. All our reports are parameter driven enabling users to obtain multiple views of the information in the database. The system comes with over 60 reports covering almost anything in the database. We provide source code for all our production reports so technical users can create custom reports based on our production reports. System administrators can add reports to the system so your custom reports are available to your users. This makes it easy for you to share reports with other AgencyInsight users.
General Ledger—AgencyInsight was designed to streamline premium accounting and interface seamlessly to your choice of standard General Ledger packages. Our clients choose their g/l (Great Plains, Peachtree, MAS-90, QuickBooks, etc.) and we provide the interface. Transaction processing and reporting are fast and seamless.

Technologies
AgencyInsight is built on the very latest technologies—no legacy code here. The system is installed at our customers offices and accessed by users through their intranet browser (Internet Explorer). Our clients own their data and have full control over the system.
The system is built on the very latest Microsoft technologies and industry standards including:
» Microsoft Visual Studio .NET
» Microsoft SQL Server
» Crystal Reports
» Terrace OpenApp®
» XML, ACORD, AL3
Terrace provides all version updates (major and minor) as part of the software license and maintenance. We remotely care for your server and perform all upgrades as part of our server care program.