Overview
The Autism Education Network is creating a collective voice for children with autism to help every one of them reach their full potential. Through the Network, families and professionals serving the autism community are working toward special education reform and striving to preserve children with autism 's state and federal rights to a free, appropriate, public education. By using technology and the Internet to streamline information, we empower families and professionals serving the autism to community to voice opinions and advocate change.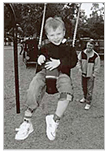 When you join the Autism Education Network, you'll receive Email updates on important issues in the autism community. Plus, the Network is spearheading projects such as the Autism Education Committee, to survey the special education programs services offered to young children with autism in Santa Clara County. We are also developing web-based training and support programs, as well as a Family Assistance Fund that we hope to make available to members in the coming year.
The Autism Education Network was founded by the mother of an a child with autism , Michele Waterman, as a result of her own struggle to secure an appropriate education for her son. She has lobbied everyone from the local school board to the Chairman of the Senate Education Committee for special education reform. By creating the Autism Education Network, she hopes to provide both a resource and a roadmap for other parents navigating the special education system. And just as importantly, help every a child with autism reach his or her full potential.